Medical Device Packaging Labels 101
Originally published on Med Device Online, March 16, 2022
Peggy Fasano, COO, Boulder iQ
Product labels that appear on device packages, admittedly, are not the most exciting part of medical device product design and development. They lack the excitement of scientific discovery, the cachet of human factors design, and even the rigor of testing. They're often thought about late in the development process, and they're frequently almost afterthoughts. Yet labels play an important role in a device's life. They are key to market introduction and success, a company's longterm financial viability, and to patients' health and lives.
Required by the FDA, labels can also cause major problems when they contain inaccuracies. They consistently rank as one of the top three to five causes of FDA-issued product recalls.1
Recalls from mislabeling originate from myriad sources. Common ones include audits (internal or FDA), alert employees and customers, or users who notice misinformation or confusing information. The issues can be big or small, but even small ones can generate major recalls. For instance, a wrong revision number or part number on a package label will spur a recall, as will an error in a diagram citation or explanation. On the other end of the spectrum are problems stemming from instructions for use printed on the label. A mistake in a user manual could end up on the label and potentially result in misuse of the device.
Results of some of the country's major products recalls are well known. In most cases, large corporations have been able to correct issues, weather the recalls, and continue to prosper. But for a smaller device manufacturer, a recall can be devastating. Time to correct and reissue can sometimes mean a missed market opportunity. For some companies, recalls can lead to closures and bankruptcy.
Take, for example, a startup with four employees, developing and marketing a Class II device. The company started selling its product on the market and discovered that a lot number on a batch of product was incorrect. A key aspect of a label, the lot number is used for traceability. So, the company had to recall that batch and do an investigation. That recall entailed expense to ship the product back, lost revenue, and loss of trust among their early adopters, further impacting sales. Even after correcting the lot number issue, the company was unable to get sales back up, and ultimately closed their doors due to a lack of funding.
Getting It Right The First Time
The good news is that, of all the steps in device design and development, labeling is the one with the best chance to get it right the first time. Definitive standards, regulations, and timelines from the FDA offer a clear path to a correct label. Unlike software, where it's almost impossible to get every bug out in a first iteration, labels can be done right the first time. Yet because of the readily available information and straightforward process, device manufacturers often assume that the process to create a label is easy, and they leave it to the end. The ensuing scramble creates frustration, added expense, and delays.
To ensure you get it right the first time, familiarize yourself with the FDA's information and standards for device labeling. Work closely with your in-house or outsourced quality and manufacturing staff to make sure everyone is incorporating labeling into the manufacturing process. The goal: Complete labels at the end of the design output phase – when the design is frozen – and make them prior to device testing.
Label Standards
While they may differ somewhat based on label type, most labels adhere to two main standards:
Code of Federal Regulations Title 21: Known as 21 CFR Part 801, this information from the FDA includes details on general labeling provisions, labeling requirements for unique device identifiers, labeling requirements for over-the-counter devices, exemptions, and special requirements for specific devices. A device manufacturer selling in the United States must follow 21 CFR Part 801.
ISO 15223: Just revised in 2021, ISO 15223-1 details the symbols to use on medical device labels. ISO 15223-2 details symbol development, selection, and validation, and provides additional information on choosing symbols.
While the FDA now recognizes ISO 15223, it does not require manufacturers to fully comply. Most manufacturers do follow it, though, as industry best practice and because it is required in other countries. Device manufacturers may use ISO 15223 symbols without adjacent explanatory text. They also have the option to use a symbol not found in ISO 15223, if they believe it would be readily understood by the user.
The Label In Detail
Understanding each section of a typical device label, and why it's needed, will help ensure the labeling process is as efficient as possible. The diagram and following information describe label requirements from 21 CFR Part 801.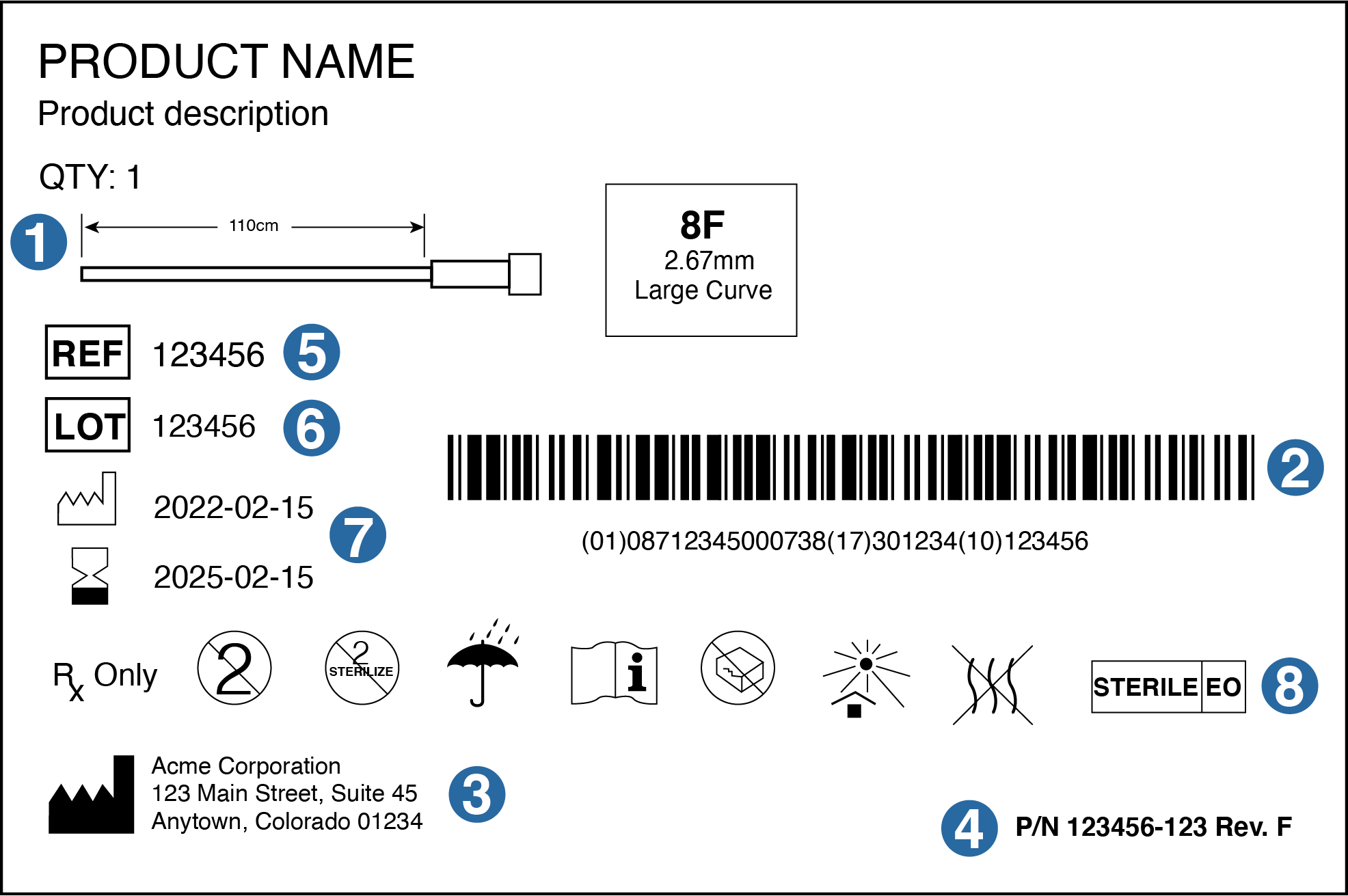 1. Device diagram: While not required, a diagram can help in product identification and differentiation when a device comes in different lengths or sizes. It can also help rushed medical providers identify what they need more quickly.
2. UDI: A Unique Device Identifier (UDI) is required for all device labels. The two most commonly used systems to imprint information onto a bar code or QR code are those of Global Standards 1 (GS1) and the Health Industry Business Communications Council (HIBCC). The FDA recognizes either of these formats for the UDI. GS1 is a UDI-issuing agency whose system of standards provides a global framework to identify, capture and share product information. The HIBCC has created alphanumeric Health Industry Bar Code (HIBC) standards and data formats that are consistent, flexible, globally compatible, and industry supported.
Logistically, placing the UDI roughly in the center of the label, and making sure it is not crowded by surrounding information, will make it easy to scan.
3. Manufacturer: The manufacturing symbol identifies the business that is responsible for the design and/or manufacture of the device. That is not always the company that actually assembles or packages the product. In the case of medical devices, many companies utilize contract design, development, and manufacturing firms. Once the device is on the market, they also often have the contract firms handle any complaints. In these cases, the "manufacturer" name and contact information on the label would be stated as "Manufactured for (name of business responsible)," "Distributed by (name of business responsible)," or "Packaged for (name of business responsible)."
The label also must state the name and place of business of the business (manufacturer, distributor, or packer). For the address, only the city and state are required if the organization is listed in a phone directory.
4. Part Number, Revision Number: It's a good idea to display the part number and revision level on the device label. This assures that the label is a controlled document that has been created within a bona fide quality management system.
5. REF Number: Ref can refer to the catalog number, commercial product number, commercial product code, stock keeping unit, reference number, or reorder number. Essentially, this is a unique number that identifies the medical device from a manufacturer.
6. Lot Number: Displaying the correct lot number is crucial for traceability purposes. Should a manufacturer receive a complaint, they must be able to quickly trace the device back to its specific lot. A good quality management system will ensure accurate documentation and the ability to tie a device to its lot number through manufacturing, sterilization (if required), and packaging.
7. Dates: Manufacture, Use By: For a sterile device, the "day of manufacture" is typically the date on which the device was sterilized; the expiry period begins on that date. For non-sterile devices, the manufacture date is the date on which the lot, or individual device, completes manufacturing.
The "use by" date is typically set as an exact number of years from the date of manufacture. Determined by shelf-life studies, that number of years generally ranges from one to five. To obtain a shelf life of beyond five years, device developers encounter significantly greater expense in accelerated-aging testing.
8. Symbols for Medical Device Labels: Many other symbols, found in ISO 15223, are available to indicate special uses for the product. Examples include:
Single use only
Do not sterilize
Prescription use only
Keep dry
Do not expose to sunlight
Non-pyrogenic
Temperature and humidity limits for storage and shipment
Sterilization method (e.g., ethylene oxide, steam gamma) if the device is sterile
Adding the appropriate symbol for "consult the instructions for use" (IFU) is highly recommended for medical devices. Since the IFU document is a primary tool in mitigating device risk, directing the user to consult the IFU before using the device can reduce risk while increasing efficacy.
In addition, providing a sheet of peel-off stickers in a package of devices that display the lot number can be a helpful addition to the labeling process. A provider can then place a sticker onto a patient chart, making it easier to track any potential issues down the line.
Conclusion
Labeling for medical devices almost always takes longer than developers think it will. While straightforward, labeling isn't always easy, and it carries real risks. Whether handling the labeling process in-house or through a consultant or contract quality expert, it pays to start early, and take the time to make sure every word, symbol, and diagram on your device label is clear and accurate. For additional guidance, check out the International Medical Device Regulators Forum's Label and Instructions for Use for Medical Device guidance document here.
References
1. https://www.empr.com/uncategorized/study-reveals-most-common-reasons-for-fda-recalls/
https://www.medtechintelligence.com/feature_article/trends-in-medical-device-recalls/
https://www.medtechdive.com/news/medical-device-recalss-jump-q3-sedgwick-report/610834/
About the Author:
Peggy Fasano is Chief Operating Officer at Boulder iQ. She is an expert in product development, project management, and engineering within the medical device and biotech industries. She has held the positions of senior consultant with Deloitte Consulting, managing director of the Deming Center Venture Fund, product development and engineer consultant for Boulder BioMed, and project manager and mechanical engineer for Sophono, Inc. She also has worked as a mechanical engineer and project manager at Polestar Technologies. Fasano holds a BS in mechanical engineering from Tufts University and an MBA from the University of Colorado. She can be reached at peggy.fasano@boulderiq.com or on LinkedIn.