Valuation Strategies for Early Stage Medical Device Companies (Part 2)
Larry O. Blankenship, ©2021 Blankenship Research, LLC, published with permission
Step 4: Find Comparables – Learn From Them and Use Them
Who else has something even remotely similar to what you are doing? Did they exit in a merger or acquisition? How similar was their enterprise to yours? What comparisons can you make?
I was part of a company making a new surgically implantable heart valve. We had a unique technology with specific advantages. There was a history of innovative heart valve companies, however, using different technologies. That history provided us a road map regarding how much money was invested before they were able to commercialize their products before they reached break-even and attained positive cash flow. We also knew how much their company sold for in an exit to a larger company. This analysis gave us some good perspectives for dealing with potential investors on how much to raise, what timing to expect and how much our company might be worth at an exit event.
Step 5: Make real, tangible progress
Talk is cheap.  Don't expect to be funded after your first presentation to a prospective investor.
Watchful waiting is a common and effective strategy for investors at all levels – they have the money and the time to see what develops. They'll be watching your progress and monitoring your ability to do what you say you're going to do. This is part of the due diligence process in most cases.
By working hard and diligently over time, and showing REAL, TANGIBLE progress in achieving your milestones (and beyond), you'll gain their respect, their confidence, and increase your likelihood of receiving a term sheet. Even if you don't have much money, there are things you can do to build on your story, attract additional supporters, and show how your invention will capture the sales you believe it can. Don't waste time! That's a sure way to turn off investors.
Step 6: Get the Word Out
There are startup companies that operate in "stealth" mode and keep their progress to themselves. This has the advantage of not letting your competitors know your real state of development, but it can only be done if you have a committed investor who supports that approach. Otherwise, you need to let your potential investors and partners know of your activities and successes. Step 2 is key to being able to execute this step. If your ideas are well protected with broad patents or patent applications, full of blocking strategies, then get the word out!
You'll be developing a short list of potential investors who have expressed interest in keeping in touch. So keep in touch! Let them know of your progress on a regular basis, e.g., monthly. Professional investors see hundreds and hundreds of companies in a constant flow of applications. You need to remind them about your company – and the more frequently they see real progress from you, the closer you are to a serious investment discussion.
Be careful not to "bug" people with meaningless emails, however. That will have the opposite effect. But when anything significant happens, broadcast it to your limited network (individually – don't let investors see who else you've engaged). If you get a patent allowance, if you are awarded a grant, if you succeed at an important test or animal lab, if one of your medical advisors presents at a prestigious meeting – let people know. And don't be afraid to ask for a meeting to discuss your progress and next steps when you feel it's appropriate.
Press releases about key accomplishments, awards or new hires are a good way to get the word out. Post them on LinkedIn, and make sure you're constantly increasing your LinkedIn network (I'm over 3,000 now and growing). Another way is to publish a periodic newsletter if it's interesting. It needs to demonstrate your company's knowledge and leadership. The readers should take away key points of interest, be pleased that they took the time to read it and be looking forward to the next newsletter.
Step 7: Build Key Relationships
People invest in people! The person who spearheads getting you a term sheet is your champion. That person is betting their personal reputation on you and your company. They're entrusting YOU to work with them and achieve success so they will rise in the eyes of their peers. It's a personal win-win proposition. So be bold, but also conservative enough so you truly believe you'll succeed and won't let your champion down.
Get to know your audience. Find out about the investment firm you're approaching. Don't waste their time or yours if it's clear from their website and portfolio that you're not a fit. When you find a firm with a good fit, find out about the people you'll be dealing with. What's their background, their investment history, the companies they've promoted, the boards they serve on, the exits they've had, their technology specialties and perspectives. If you expect these people to be your partners, you'd better get to know them. It's important not only to achieve a term sheet and an investment, but for the long run as well. After all, this firm and these people are going to own part of your company.
Eventually, you will probably have a minority share – that's typical due to the significant funding that's necessary to bring most medical devices to market. These early investors will sit on your Board of Directors and have a lot of influence. You need to see eye-to-eye philosophically and practically. You need to be able to work together as friends and colleagues. Taking money from an organization or people who don't have your friendship and trust can become a nightmare. Of course the money's important now, but at some point that money will be spent. New money will come in, and you'll be left with the people and the relationships. As hard as it may be, you may need to wait in order to take money only from people you trust and with whom you can work amicably.
Other relationships that are also critical to your success:
Your day-to-day business partners and colleagues
Your Board of Directors
Your Medical and Scientific Advisors
Other Business and Technical Advisors
Your success hinges on your wisdom to listen to good advice and take it. Sometimes we get in our own way based on impetuousness, naivete or stubbornness. This can be disastrous. I've had experience with extremely learned scientists, brilliant people, who believe they can short-cut the business process only to wind up bankrupting the company. In the end, success comes from making sound business decisions based on good advice from experience business professionals. Listen to your advisors!
The 7 Steps Graph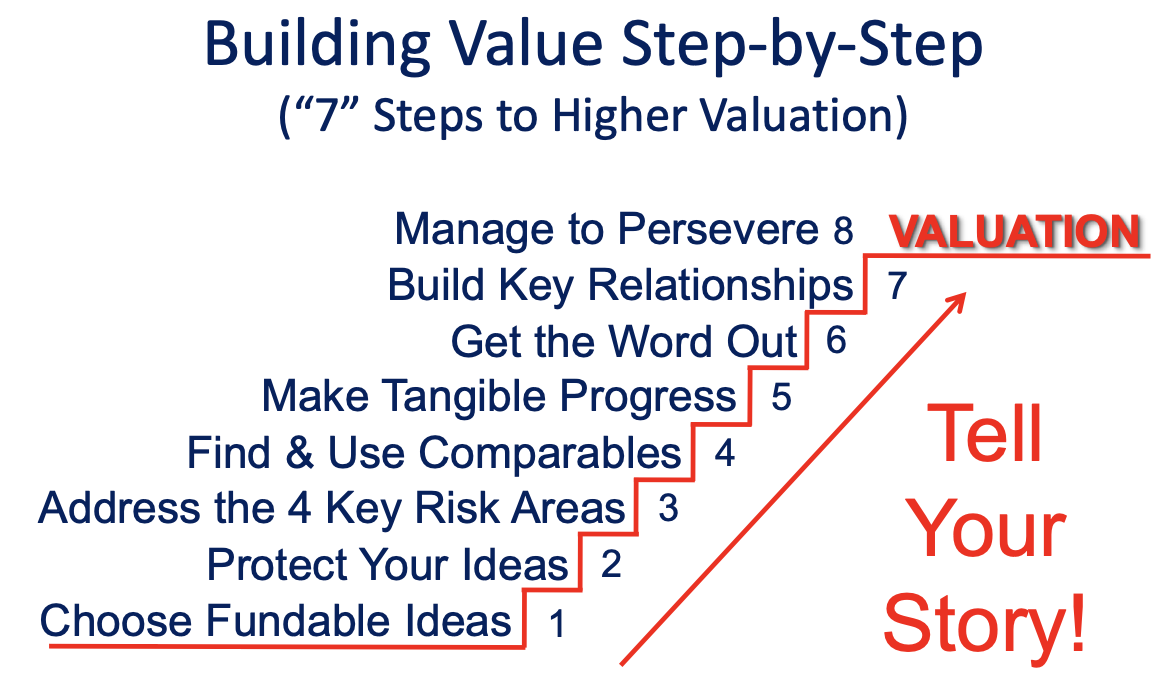 The 8th Step: Manage to Persevere
In order to thrive you must first survive. This means doing whatever it takes to keep your business alive long enough to get funded. You may have to go long periods with little or no salary, as may your colleagues. Such sacrifice is not only necessary but is also noticed by potential investors and is an important factor in their investment decision. Early company funding typically comes from your personal savings, support from friends and family members, and many times a good credit rating. I've run my credit cards to the max and had to take a second or third mortgage to survive. Sometimes it's paid off. Sometimes it hasn't. Only you and your family can decide if you want to take the risk to start a company. And it IS a risk. Being an entrepreneur is not for the faint of heart. You very well may find yourself broke and starting over – possibly through no direct fault of your own. At that point, you can give up, or learn from your mistakes and get back in the saddle. It's up to you. Perseverance, determination, tenacity and intestinal fortitude (i.e., "guts") are prerequisite requirements to being an entrepreneur. Get tough and stay tough, or don't start. It's not for everyone. But if you do proceed, you'll find out things about yourself you've never known. You'll become a broader, more experienced, wiser person, leader and role model. And if the financial rewards aren't there at first, those are your earnings. Despite some setbacks, I've found them well worth the effort. I hope you do as well.
And at long last when you do get the money – don't spend it! There's a sigh of relief to have money in the bank. You envision all those things you've been waiting to purchase, the additional amounts you'd like to put in your pocket and those of your colleagues. Be smart! You're still a startup, you're still "going broke" a little bit at a time. Until you have revenues and positive cash flow, pinch those pennies – take more in equity and less in cash. You company's life depends on it.
Overall, make sure you're having fun as well! Starting a medical device company is a great adventure, but if it's not the right adventure for you, then do something else. If this is your calling, however, then go for it! You'll find it grueling, exhilarating, frustrating and rewarding. And the world will be better for your having done it! Creating a fundable company is a combination of the right project, team, business model and market. Remember to keep all these aspects in sight as you start or continue your journey. And follow the 7 steps to increase your valuation – it's a critical part of the process!
A final note: I recently found a company and its technology so appealing, I jumped in to help. Startup number five! So . . . here I go again!
Contact me if I can be of help to you and best wishes for astounding success!